As a digital payment solution, BigPay and Swipey are two of the most popular options for Malaysians. However, when it comes to choosing between the two for your business, there are several things that you should consider like features, fees, and payment solutions. This is where this article will come in handy for you. We've compiled several key factors to help you compare Swipey and BigPay, and make a more informed decision.  
What is BigPay? 
BigPay is a mobile wallet application that allows users to make payments, transfer money, and perform fund top-ups. It is owned by AirAsia and is designed primarily for travellers who want to make payments overseas without incurring high currency conversion fees. BigPay also offers a prepaid card that can be used for online and offline transactions. 
BigPay Benefits and Features In Malaysia 
BigPay card – a Visa card which allows you to transact in multiple currencies online and in person

 

BigPay budgeting – analytic tools to view, categorise and get instant notifications about your spending

 

BigPay payments – pay bills, send money to other BigPay account holders, or make international transfers to select markets

 

BigPay rewards – get referral bonus payments, and AirAsia points when you spend from your account

 

BigPay loans – digital personal loans arranged via the BigPay app

 
What is Swipey? 
Swipey, on the other hand, is an end-to-end payment platform that is designed specifically for businesses. It offers a wide range of payment solutions, including unlimited virtual and physical cards to help you manage subscription payments easily, simplify employee reimbursement process and give you more control over business expenses via payment control features. Swipey also offers an all-in-one business financial operations dashboard which features comprehensive expense tracking, financial reporting and receipt storing available on both mobile and web. 
  Swipey Benefits and Features In Malaysia 
Swipey Visa prepaid cards – empower your team to spend for work without the hassle of approval each time. Our virtual and plastic cards come with spending limits and more.

 

Centralised expense management dashboard – Swipey's simple, user-friendly digital dashboard offers real-time finance ops activities and insights in just one place. Easily access it through the intuitive Swipey web platform or app.

 

Simplify reimbursement processes – Say goodbye to crumpled receipts! Daily transactions are recorded instantly in the Swipey dashboard when your team makes any payments.

 

Get insights into your company's spending – Our dashboard helps you monitor online and offline transaction details like merchant names, registered cards, and many more.

 

Sophisticated book-keeping for your accounting system – Save 10 hours when you download monthly Excel statements through our digital dashboard and upload them to your accounting software.

End-to-end solution – Easy and quick payment to account management

 
BigPay vs Swipey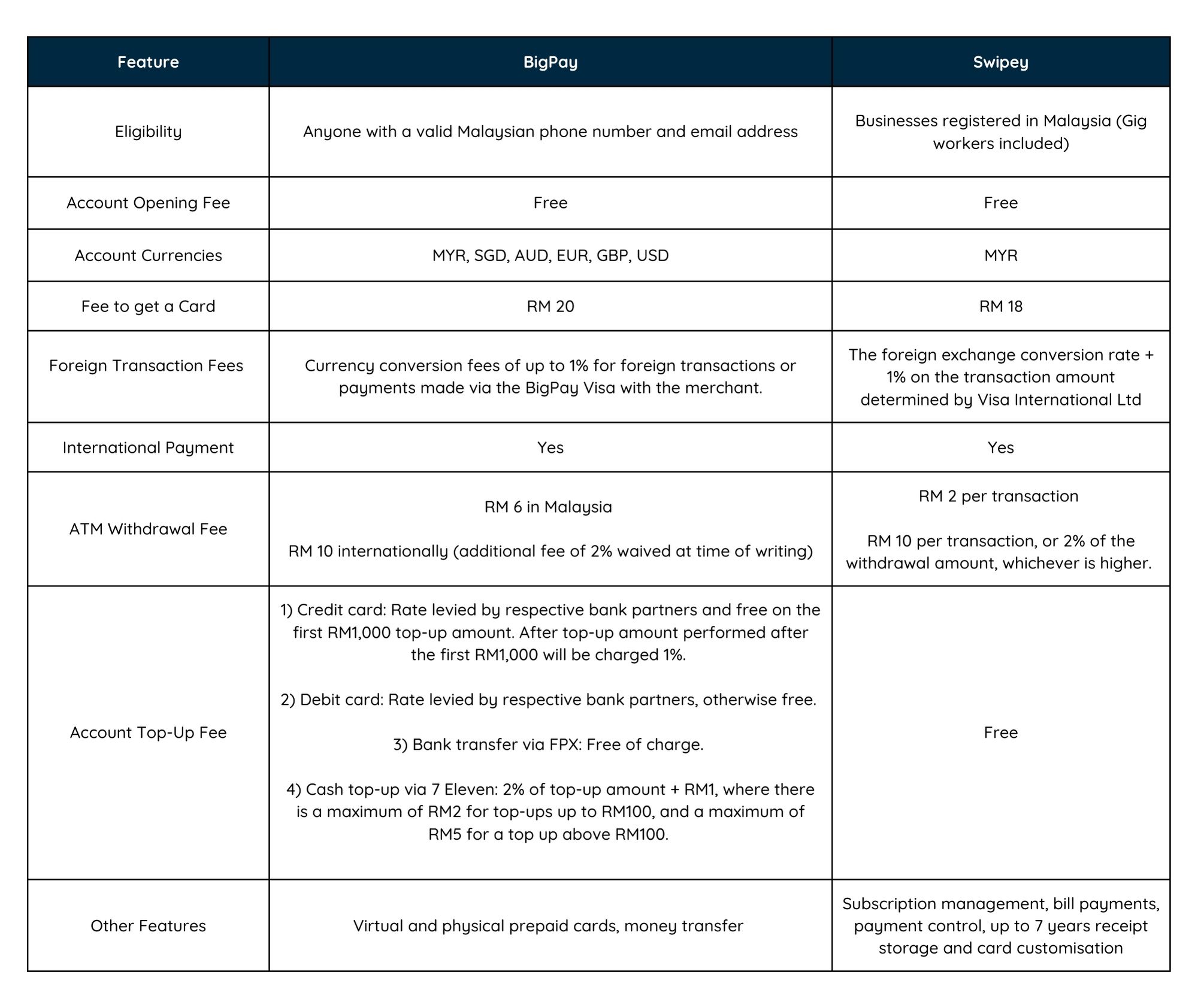 In conclusion, while both BigPay and Swipey are popular payment solutions, Swipey stands out as the better option for businesses due to its lower fees, more comprehensive payment solutions, and versatile expense tracking system. If you're looking for a payment solution for your business, we highly recommend giving Swipey a try. 
To learn more about Swipey, you can sign up for an account or watch the Swipey demo here.